Energise at our Abbotsford & Richmond Gym: 24 Hour Access & Group Fitness Classes
Looking for the best gym in Richmond? Our 24/7 gym serves Richmond and Abbotsford, offering a fusion of premium fitness centre amenities, free group fitness classes, unbeatable convenience and a cheap gym membership.
Richmond and Abbottsford's Premiere 24 Hour Gym and Group Classes
We take the facilities and classes of a premium fitness centre and combine them with the convenience and affordability of a 24 hour gym.
This is your GYM24•7.
NO CONTRACTS
NO JOINING FEE
MONTH TO MONTH
With Gym 24/7 Richmond, you won't just find a regular 'Gym near me', you'll discover a supportive community that motivates you to achieve your fitness goals. Enjoy the benefits of a cheap gym membership without compromising on quality. Experience the best gym Richmond and Abbotsford has to offer today.
The best gym in the eastern suburbs. The space is always super clean, very spacious and has all equipment including attachments for an excellent workout.
Elise (Google review)
Named Gym 24/7 for a reason, our Richmond fitness club offers an experience tailored to your schedule. Every member at Richmond receives an access tag, ensuring 24/7 gym access every day of the year.
20+ Squat racks
Multiple free weight areas
Functional fitness track, ropes and circuit
Dedicated cardio area
On demand reformer pilates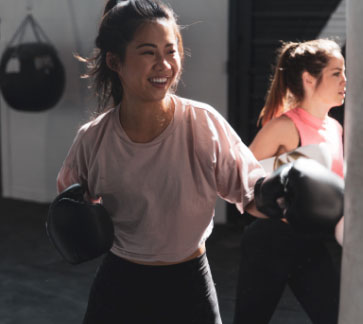 Variety is the spice of life, and we like our fitness classes spicy. Small group fitness classes are motivating, engaging, and tailored to members of all fitness levels and ages.  
BOXING
HIIT CARDIO
CIRCUIT
YOGA
PILATES
STRENGTH AND CONDITIONING
Come experience our Richmond gym, where we've got you covered with a cheap gym membership that's contract-free and totally transparent—no hidden fees here. Enjoy a free gym trial before you sign up.
SEE INSIDE GYM 24/7 RICHMOND
Our Richmond gym isn't your typical 24 hour gym, it's a holistic fitness centre where our personal trainers are committed to elevating your journey. With state-of-the-art facilities that are the biggest and best in Richmond and Abbotsford, our commitment to your success goes beyond the clock. Your transformation is our priority.
No one makes it alone.
Great classes also which are included in your membership: Yoga, Pilates, Boxing, Full Body Circuit, HIIT.
This gym has everything and staff are super friendly and helpful.
Sally (Google review)
Gym 24/7 Richmond is all about inclusivity, offering a welcoming space that suits everyone's fitness journey. With the largest gym floor space in Richmond and Abbotsford, we've got you covered whether you're into cardio, lifting weights, or group fitness classes. Picture heart-pumping HIIT cardio sessions, muscle-building strength and conditioning workouts, and even finding your zen in a yoga flow. Our schedule mixes energy, strength, and mindfulness – there's something for every fitness goal. Join us and experience a fitness centre designed with you in mind.
Reformer Pilates with over 200 classes available at all levels with 24/7 access via on demand touchscreen